Security Policies and Procedures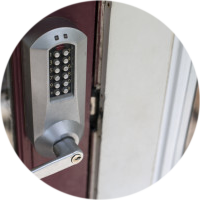 Although parents/guardians may visit at any time, we always keep our doors locked. The school may be accessed through a side door that requires a code. Only the registered parents/guardians are given the code, however, there is a doorbell that others may use to request entry.
*COVID-19 Update: As parents/guardians are not allowed in the building at this time, we ask that all families use the doorbell and wait for a staff member to come to the door for assistance.
Parents will check their child in/out using the Brightwheel app.