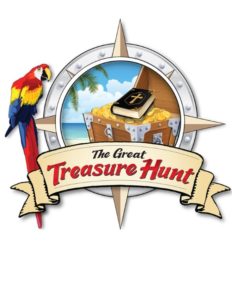 Learn & Play is the place to be this summer! We will be going on an adventure filled Great Treasure Hunt! Each week we will explore a new location in our search for the Great Treasure and enhance the children's learning with fun activities and special visitors, dramatic play and water fun. We'll also continue to learn throughout the summer about God's love. God's love for us and the love of Christ that we show others are treasures that shine brilliantly forever.
Week 1 June 22-26 The Garden
Our summer adventure will begin in the garden where will learn the correct way to plant seeds with our friends from the Bartlett Arboretum so we don't waste seeds like the farmer in Jesus' Parable of the Sower.
Week 2 June 29 to July 3 The Castle
Our first stop will be the "The Castle" where we will meet the Brave Queen Esther. Esther didn't have to fight any dragons, but we'll be learning about dragons The Science Tellers program, "Dragons-Return of the Ice Sorceress".

Week 3 July 6-10 The Boulder
As we continue on our quest to find the Great Treasure, we will pass the giant boulder where we'll hear how David defeated Goliath, and Cool-ology will teach us all about rocks and minerals.

Week 4 July 13-17 The Rain Forest
Our trek will take us through the rain forest where we'll explore the Wonders of Weather through Mad Science and learn why Elijah prayed for rain.
Week 5 July 20-24 The Sky
As we emerge from the rain forest, we'll took to the sky to find out what happened when Noah released the dove, and we'll have the opportunity to see a beautiful white dove released from Learn & Play by Wings of Love.
Week 6 July 27-31 The Shepherd's Field
Our expedition will take us through the shepherd's field where we'll meet David, a boy with a good heart, and find out how he became king. We'll also meet a local shepherd, Schuyler when he brings his sheep to Learn & Play.
Week 7 August 3- 7 The Ocean
Our map leads us along the shore and passed the ocean. We'll keep our eye out for Jonah and see if he ever got out of the belly of the whale and welcome Mad Science and their Sea, Sand, and Surf program.
Week 8 August 10-14 The Mountain
It's the end of our journey! We've found the Great Treasure! It's Jesus! When Jesus gives us His Sermon on the Mount, he tells us to "ask, seek, and knock"
Ask, and it will be given you; search, and you will
find; knock, and the door will be opened for you. The Stepping Stones Museum will be knocking on our door when they help us to act out The Three Little Pigs.